Telemedicine Terminal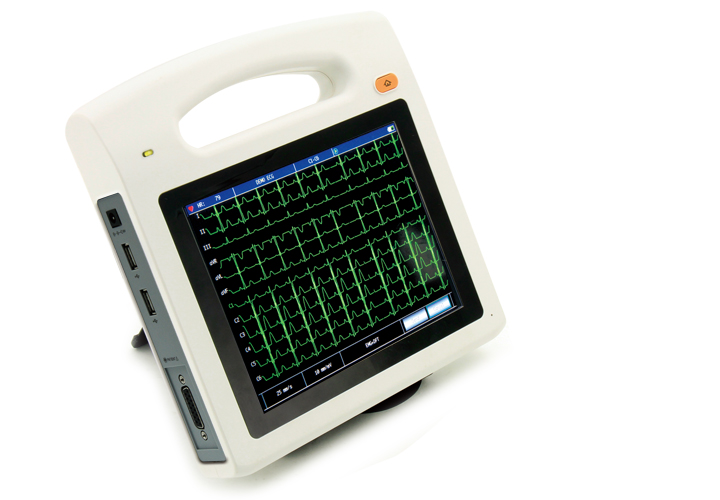 Multi-lead display mode
12 leads ECG acquisition function,can simultaneously observe 3-lead, 6-lead and 12-lead real-time waveform, and with "Lead off" detecting function.
Wireless Network
Connect to the internet through wireless mode, extract the uploaded data for experts to diagnose, and print the expert diagnosis report through USB printer.
Portable Design with Big Screen Display
Streamline handle, easy to carry, 8 inch color LCD, touch function buttons with two operation control, adjustable backlight, display ECG waveform and working state clearly.
AC/DC two power combination
AC/DC two modes and built-in rechargeable lithium battery satisfy the out-call and physical examination demand.
Case storage and review function
With the perfect ECG database management system, built-in mass storage, which is convenient for doctor to review cases and statistic information, support SD card to extend mass storages.
Embedded Intelligent Operation System
Operation system is stable and safe, support USB port upgrade and online upgrade.
Full-digital Filter
Anti-baseline drift, anti-AC interference, ensures the waveform neat and correct.
Auto Analyses Function
Auto analyses function in local mode, offer thorough analysis parameter and diagnose suggestion.
Sync Upload
Use with PC sync accessories, real-time upload, simple operation, strong analysis function.
Specification
Input impedance: ≥50MΩ
Input circuit current: ≤0.1μA
Standardization voltage: 1mV
Enduring polarization voltage : ±500mV
Noise level: ≤15μVp-p
CMRR: >60dB, >100dB(Add filter)
Frequency response: 0.05Hz~150Hz(-3dB~+0.4dB)
Time constant: ≥3.2s
Patient leak current: <10μA
Sampling precision: up to 24 bit
Sampling frequency: up to 1000Hz