SPIROMETER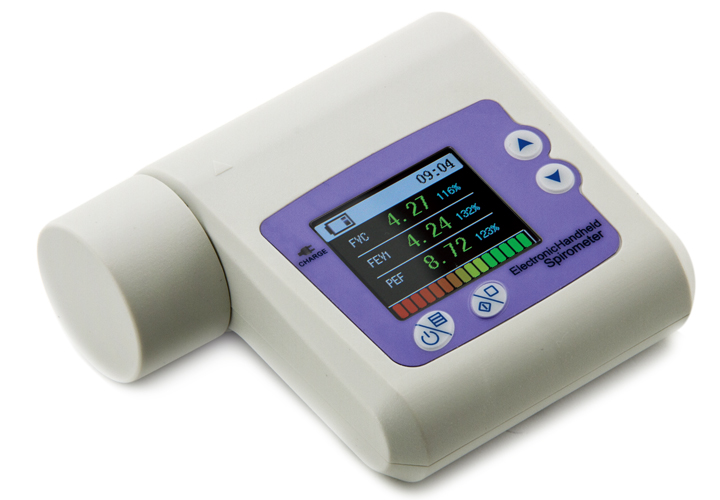 Introduction
SPIROMETER is a hand-held lung function test device, and it takes infrared signal acquisition method to measure FVC and relevant parameters. It is suitable for hospital, clinic, family to do daily function detection.
Main Features
1) Measures forced vital capacity (FVC), measures forced expiratory volume 1 second (FEV1) and its ratio with FVC (FEV1%), Measures peak expiratory flow (PEF), forced expiratory flow FEF25, FEF75 when 25%, 75% vital capacity and average expiratory flow between 25% vital capacity and 75% vital capacity (FEF2575). It can display testee's situation by the ratio of measured value and expected value;
2) Flow-capacity graph, capacity-time graph display; Trend graph display;
3) Data memory, deletion, upload and information review;
4) Calibration function;
5) Capacity, flow exceed limit info tips;
6) Automatic power off when there is no operation in one minute;
7) Lithium battery, power capacity indication;
8) Wired and wireless transmission function.
Specification
Capacity measurement range: 0~10L
Capacity accuracy: ±3% or ±0.05L (select larger)
Flow measurement range: 1L/s~16L/s
Flow accuracy: ±10% or 0.3L/s (select larger)